Frequently Asked Questions
Q. Are food and drink allowed on board?
A. Yes! You may bring ANY kind of refreshments on board that you desire! ANYTHING!
Q. What should I wear?
A. You can wear ANYTHING you choose (with the possible exception of stiletto heels and cowboy boots…)! Just keep in mind that it's usually a bit cooler on the water than it is on the beach.
Q. Do you have restroom facilities on board?
A. Yes, there is a bathroom on board — but please be nautical while aboard Sundance and ask to use the "Head!"
Q. Where is the Sundance located?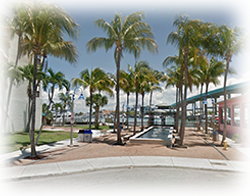 A. The Sundance sails from Snug Harbor, located under the Sky Bridge at 645 Old San Carlos Blvd, in Fort Myers Beach. Just take the first right off the bridge, and take a right onto Old San Carlos Blvd. at the stop sign. Follow your nose to the waterfront. Parking is on the left at the end of the street, and there may be a charge if a parking attendant is present.
Click here for a map!